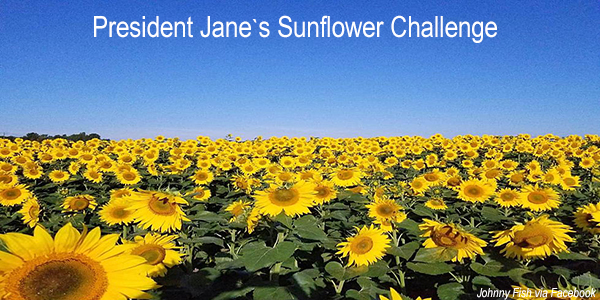 Antler River Watershed Regional Council Members
Let Sunflower Seeds of Hope Abound in ARWRC
Sunflowers! The national flower of Ukraine.
When explorers returning home from North America brought sunflower seeds with them, the seeds were planted in the rich dark soil of Ukraine where they flourished. While other fats and oils used for cooking were forbidden by the Orthodox Church during Lent, the oil from sunflower seeds found its way into Ukrainian cooking and culture. Throughout Ukraine's history the ubiquitous sunflower has been a symbol of peace.
Since late February the sunflower has become a global symbol of resistance and solidarity in support of Ukraine. It is rooted in a news story about a bold, brave and courageous Ukrainian woman who offered sunflower seeds to heavily armed Russian soldiers invading her country. "Take these seeds," she said, "so that sunflowers grow when you die here."
Sunflower seeds of hope … hope that good will triumph; hope that through the darkness beauty will grow. Death and resurrection.
On Ash Wednesday, on behalf of the Antler River Watershed Regional Council (ARWRC), I wrote a letter of support to the Ukrainian faith communities located within the region.
Here is an excerpt:
We watch with dismay and disbelief as Russia continues to invade Ukraine. Our hearts ache because of the violence, death, pain, destruction, and the displacement being visited upon Ukraine's people, many of whom have family members and friends living in Canada.
In a time such as this, we pray that the Spirit of God's love will provide strength for the people, political leaders and spiritual leaders of Ukraine. We pray for peace.
We are holding and encouraging you as we stand in solidarity with you. support
And now to the Sunflower Challenge!
During Lent, and beyond, I encourage all communities of faith to plant sunflower seeds of hope and to adorn your worship spaces with sunflowers … be they real ones, photographs or made of construction paper. My hope is that the ARWRC will become a field of sunflowers. It will become an expression of our "Voices United" in hope and in solidarity with the people of Ukraine and their loved ones around the world.
Beyond the sunflowers, please also check the UCC website for many more ways to help and show support for Ukraine and its people.
In Faith & Hope,
Rev. Jane Van Patter
President, Antler River Watershed Regional Council