Congregational Support Toolkits
Quick Links:
Covenant between Region and Communities of Faith, Community of Faith Profile, ChurchHUB, Property Matters, Amalgamating and Disbanding, Pastoral Charge Supervisors, Self-Assessment, Maintaining the Historic Roll, Collaborative Covenants / Shared Ministry Agreements, Compliance, Annual Meetings, Community of Faith Finances, Deficit Dilemma Video, Deficit Dilemma Presentation
Toolkit #1 – Covenant between Region and Communities of Faith
At the heart of the relationship with the regional council there will be a personalized covenant for each community of faith. This covenant expresses our commitment to work together, care for one another and respect the roles and responsibilities we have been given as part of The United Church of Canada. It is this covenant that will help to define our relationship and commitment to the ministry we share.
Each community of faith and congregation will create their own covenant with Antler River Watershed Regional Council by completing the appropriate sections, including choosing and explaining the symbols that reflect their commitment to this relationship.
Covenant Instructions
A Covenant of Mutual Commitment
This liturgy will be used as part of a service to celebrate the covenant between Antler River Watershed Regional Council and community of faith. A representative from the regional council will participate in this service with the community of faith. This may be done as part of a service to covenant with new ministry personnel or at a regular worship service.
Liturgy for Regional Covenanting Service
Toolkit #2 – Community of Faith Profile
A set of worksheets to assist communities of faith with information gathering, review and discernment of their current strengths, challenges, ministry initiatives and goals.
Preparing to Search.
Preparing to Search Process
Step by step instructions for completing the profile worksheets and living faith story.
Profile Preparation Handbook
A tool to assess current and future financial well-being for planning purposes.
Financial Viability Worksheet
Asks the questions, "Who are we" and "Who are our neighbours".
Demographics Worksheet
A record of property, such as cemeteries, if applicable. Does not refer to the church building or manse.
Real Property Worksheet
A more detailed description of your ministry using headings that will assist with writing a position description and reviewing applications.
Living Faith Story Worksheet
Toolkit #6 – Pastoral Charge Supervisors
Information for communities of faith and Pastoral Charge Supervisors related to the tasks and responsibilities of this position.
A brief overview of the responsibilities of a pastoral charge supervisor.
Pastoral Charge Supervisor Handbook
Pastoral Charge Supervisors Reporting Form
PCS Gathering February 9, 2022 – Summary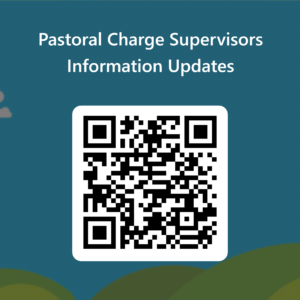 If you are a new pastoral charge supervisor, your information has changed, or you have yet to fill out this form please submit your information. It assists the Minister for Congregational Support in finding pastoral charge supervisors when needed.
Toolkit #9 – Collaborative Covenants / Shared Ministry Agreements
Resources for communities of faith interested in sharing staff/resources and exploring opportunities for cooperation.
Collaborative Covenants are when two or more pastoral charges choose to work together bound by an agreement. Shared Ministry Agreements are when there is an ecumenical (other denomination) shared relationship.
A Handbook containing information to help create a successful collaborative ministries.
Collaborative Ministry Handbook
Basic template that can be adapted as needed.
Collaborative Covenant – Sample
An overview of ministry sharing with examples, benefits and considerations.
Collaborative Agreement Information (PowerPoint)
A series of questions to assist the collaborative conversation between congregations.
Collaborative Ministry CoF Inventory
An overview of the Collaboration Process
Collaboration – Steps in Process
Toolkit # 11- Annual Meetings
Information to help communities of faith prepare for annual meetings and adapt to changes related to Covid-19.
Information Package
A package containing helpful tips to prepare annual reports, plan annual meetings, complete community of faith profile and living faith story, and updates on changes related to Covid-19.
2020 ARW Information Pack
Annual Meeting Best Practices
A guide to help congregations and pastoral charges prepare for the Annual Meeting.
Annual Meetings Best Practices
Annual Reports Best Practices
A tool to help congregations and communities of faith ensure their annual report is complete and easy to read.
Toolkit #12 – Community of Faith Finances
Resources related to community of faith finances.
---
On January 11th2023 the tri-regions hosted a Deficit Dilemma Workshop, with over 185 people in attendance!  If you missed this workshop, or would like to review the content, a link to the recording and the Powerpoint Slides are available below: